By Abby |
18
September 2023 |
0
Comments
Sunny Season - Create Custom Embroidered Patches to Add a Personalized Touch 
Summer, the season of sunshine, vacations, and outdoor activities, is just around the corner. Are you looking for ways to add a unique and personalized touch to your summer outfits, bags, or hats? Consider creating custom embroidered patches! These patches can showcase your personality, passion, and style. Plus, they are durable, affordable, and easy to attach and remove. In this blog post, we will explore the benefits of embroidered patches and the process of creating them.
1. What are embroidered patches?
Embroidered patches are artworks or logos created by stitching threads onto a fabric. They are usually made of cotton, polyester, or twill fabrics and come in various shapes, sizes, and colors. Embroidery patches can be attached to fabric items via sewing, ironing, or adhesive backings. They are commonly used for adding decorations, identifications, or messages on uniforms, hats, bags, jackets, or jeans.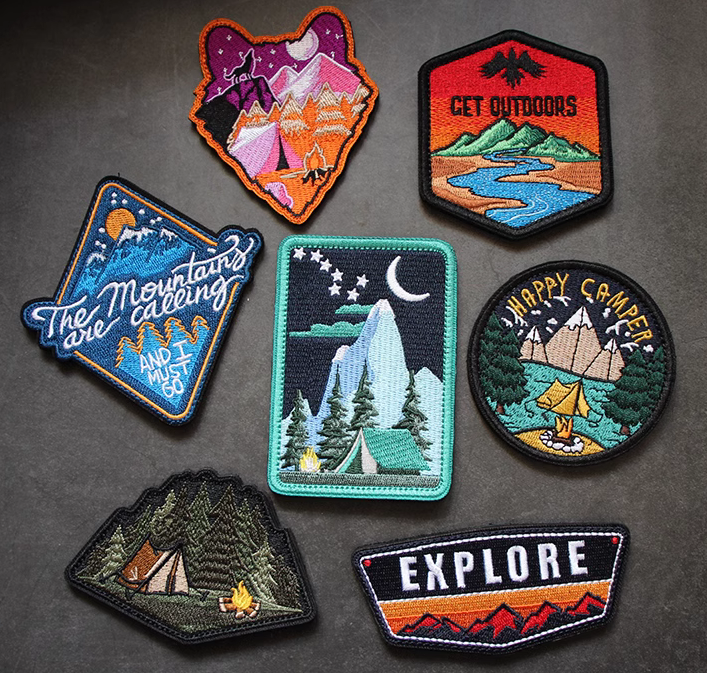 2. Why choose embroidered patches over other customization options?
Embroidered patches offer several advantages over other customization options, such as screen printing or heat transfer. Firstly, embroidered patches provide a three-dimensional effect that can enhance the design's appearance and texture. Secondly, embroidered patches are more durable and resistant to fading, peeling, and tearing compared to screen printing or heat transfer. Thirdly, embroidered patches can be produced in small quantities with low setup costs, making them perfect for personal or small-scale usage.
3. How to create custom embroidered patches?
Creating custom embroidered patches is an easy and fun process. You can either design your patch online or hire a professional designer to help you. Many online patch makers offer custom patch design tools that allow you to upload your artwork, choose your fabric, thread, and border colors, and preview your design before ordering. Once you have finalized your design, you can choose the size and quantity of your patches and place the order online. The patches will be delivered to you within a few days or weeks, depending on the manufacturer's location and shipping method.
4. Where to use custom embroidered patches?
Custom embroidered patches can be used in various settings and industries, such as fashion, sports, military, police, scouting, or clubs. Here are some ideas on where to use your embroidered patches this summer:
- Add your favorite quotes, logos, or symbols on your beach bag or tote
- Showcase your team or player names and numbers on your sports uniforms or caps
- Express your personality and hobbies on your jean jacket or backpack
- Honor your military or police service on your uniforms or hats
- Recognize your achievement and commitment on your scouting or club vests
5. Where to order custom embroidered patches?
If you are looking for a reliable and experienced custom embroidered patch manufacturer, look no further than SS International. We have been producing high-quality embroidered patches for over 30 years and have served clients from various industries and countries. We offer free design services, fast turnaround, and competitive prices. Contact us at Patches@ssintlco.com to learn more about our products and services.
Custom embroidered patches are a versatile and creative way to add a personal touch to your summer fashion and accessories. They allow you to express your personality, passion, and style in a unique and lasting way. By choosing embroidered patches, you can benefit from their durability, affordability, and accessibility. Whether you want to showcase your team spirit, honor your military service, or simply add some fun to your beach gear, custom embroidered patches can help you achieve your goals. Contact SS International today to start creating your own custom embroidered patches!
Leave a Reply
Your email address will not be published.Required fields are marked. *