By sunnyseasonpatches |
30
June 2023 |
0
Comments
Global Style, Personal Touch: Showcasing Your Unique Identity with Custom Embroidered Patches
In today's world, standing out from the crowd is an essential part of making your mark. Everyone wants to leave a lasting impression that makes them memorable and helps them be recognized for their unique qualities. Custom embroidered patches are a great way to showcase your personal style while also representing your organization or group. Whether you're in the fashion industry, part of a team, or simply looking to express yourself, custom embroidered patches are a fantastic way to showcase your vision and identity.

Embroidered patches have been around for a long time, but as fashion evolves, so does the way we wear them. More and more people are looking towards custom embroidered patches to design clothing, hats, bags, and other accessories that express their personal style. The patches come in a wide range of designs which means there's something for everyone.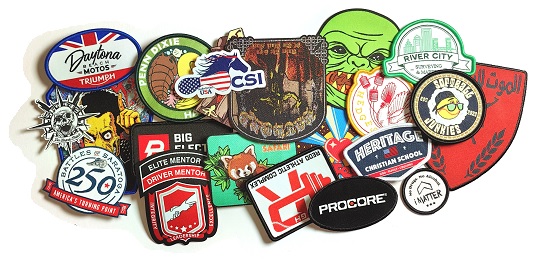 One of the most significant advantages of using custom patches is the ability to create something unique. When you have a custom patch designed, you can add your own personal touches to the design and make it stand out from the rest. You can choose from a wide range of colors, shapes, and sizes to create something that truly matches your personality.

Custom patches are not limited to just individuals looking to create something new and unique. Businesses can use them as an excellent way to promote their brand. There's no better way to get your logo out there than by putting it on an embroidered patch. Not only will it help promote your business, but it will also make your team look more professional and polished.

Another great thing about custom patches is their versatility. They can be used in a wide range of settings such as military uniforms, sports teams, and even in fashion. Patches are now used on hats, bags, jackets, and shirts to give that extra touch that represents individuality.

Gone are the days of generic designs and uniformity. Custom embroidered patches are the new way of creating something unique. Whether you're looking to promote your business or express yourself, custom patches are a great way to showcase your personal style and identity.

Custom embroidered patches offer a way to showcase your unique style and identity while also promoting a brand or group. You can create something that truly represents you in terms of color, texture, and design. Whether you're an individual looking to express yourself or a business owner looking to promote your brand, custom patches are an excellent choice. They are versatile and can be used in a wide range of settings, from fashion to sports to military uniforms. Don't be afraid to get creative and design your very own custom patch today!
Leave a Reply
Your email address will not be published.Required fields are marked. *